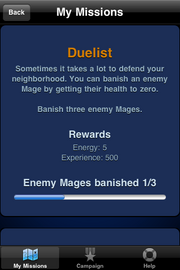 This screen is titled My Missions. All missions you are currently doing show up here. Your progress, mission description, time remaining, and rewards appear here. This screen is also where you will be able to accept your rewards and therefore ending the mission. After you have completed a mission (or it has expired) a new one will become available.*
If the mission expiry time has a negative number, try logging off and back on.
Ad blocker interference detected!
Wikia is a free-to-use site that makes money from advertising. We have a modified experience for viewers using ad blockers

Wikia is not accessible if you've made further modifications. Remove the custom ad blocker rule(s) and the page will load as expected.